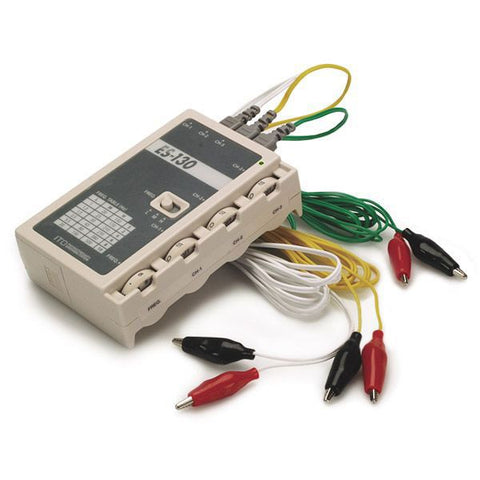 Lhasa Oms Inc. ITO® ES-130 3 Channel Electro Stimulation Unit
ITO® ES-130® Three Channel Electro Stim Unit
Replaces the popular IC-1107+. The new model is designed and calibrated to meet all essential safety and regulatory industry standards.
A compact, sturdy, high quality Japanese electro-therapy device that is light weight and fits in the palm of your hand. The pocket portable ES-130® is the smallest and smartest looking professional electro-therapy unit in the world, for use in or out of the office.
Featuring a High/Low switch on the back of the unit, the switch is toggled to Low to facilitate use with needles or to High for MEA electro-therapy. It offers three independently controlled output channels with adjustable frequency indicated by a flashing light. The waveform is a unique biphasic pulse which has been designed to minimize electrolysis damage to the needle. This unit is not equipped with a point locator.
Accessories include 3 sets of new CE wire leads with rectangular CE jack, carrying case, and instructions. Battery not included
Technical Specifications
Output Channels: 3 independent intensity channels
Frequency: (adjusted with fine frequency dial) L- 1 to 20 Hz/M- 20 to 150 Hz/H- 150 to 500 Hz
Low volts and current: 0 to 10 volts, 0 to 20 milliamps
High volts and current: 0 to 20 volts, 0 to 40 milliamps
Voltage, Max: 30 volts
Pulse width: 100 microseconds (µS)
Pulse shape: asymmetric biphasic square wave
Pulse modes: continuous
Power indication: flashing LED, each channel
Power source: 9-volt battery (not included)
Frequency indicator: flashing red light
Size, weight, color: 4.5" x 3.2" x 1.2", 0.3 lbs, Gray
---
We Also Recommend