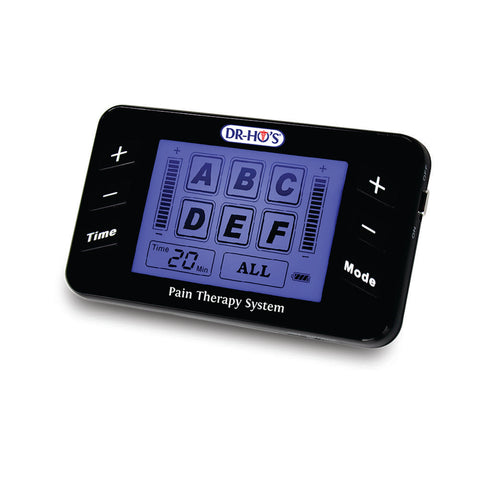 Dr. Ho's Pain Therapy System Pro
Pain Therapy System Pro is a Transcutaneous Electronic Nerve Stimulation (TENS) unit designed to help relieve pain from anywhere on your body. The stimulation has three main goals: block the pain signal, release tension in your muscles, and release natural pain killers. Tension is released as the stimulation causes the sore or stiff muscles to contract and relax repeatedly.

This TENS system makes it impossible for your body to fully adjust to the stimulation by using a patented auto-modulating pain-relieving wave technology. This technology automatically changes the type of stimulation during treatment. For example, it may start with a kneading sensation for a moment before becoming a chopping sensation and then a pulse. The sensations from this unit are even powerful enough to temporarily restore feeling to numb regions.

The system has seven modes that you can choose from for your specific needs. You can further customize the treatment for you by changing the intensity. Are you worried about relaxing so much that you will fall asleep? You can set the timer to automatically turn off the treatment after 20, 30, or 40 minutes. In addition, there are two ports and two sets of intensity controls. This combination lets you treat two areas at once, or you can share with a friend.

This TENS device comes with a variety of gel pads to meet your needs. Eight small pads can be placed on your neck, elbows, or arms while two large Flex Tone pads are ideal for your thighs, knees, or shoulders. It also comes with a back relief belt that has two pads built-in to help your lower back. If the pads begin to lose their adhesive property, wet your fingers with water and wipe the pad surface. Each pad should last between seventy and one hundred uses.

In addition, an instructional DVD and placement guide are included to ensure proper placement of pads so you get the most out of your system. Also, a convenient travel bag that fits everything is included so you can take this wherever you go. The device has a rechargeable battery built-in too so you do not have to worry about having extra batteries on hand.

Pain Therapy System Pro Features and Benefits

DVD and Guide Show Placement for Various Aches and Sores
Timer Allows for Auto Shutoff
Two Ports Allows Treatment of Two Areas or Two People
Auto-Modulating Pain Relieving Waves Technology Does Not Allow Body to Adapt

Specifications

Product Number: 1200U-BK
Color: Black
Timer Settings: 20, 30, 40 Minutes
Seven Modes
Rechargeable Battery

CONTRAINDICATIONS

Do not use if you have a cardiac pacemaker, implanted defibrillator, or other implanted devices as it may cause interference or other complications.
Do not use when pregnant.
Do not use on infants or any individual who cannot express themselves.
---
We Also Recommend