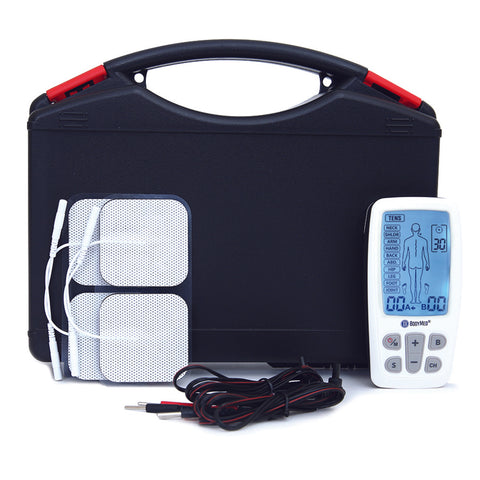 BodyMed Rechargeable TENS/EMS/Massager Combo with Body Part Diagram
NOTE: Class II - Rx Required or Sale to Licensed Professional

3-in-1 electrotherapy device: TENS, EMS, and massager.
Features body part specific programs preset into the system.
Body areas: neck, shoulder, arm, hand, back, abdomen, hip, leg, foot, and joint.
Rechargeable model.
Allows for convenient, targeted therapy on the go.
Features 22 programs: ten TENS programs, nine EMS programs, and three massage programs.
Each program controls the generated electric impulses, their intensity, frequency, and pulse width.
Additional features: two independent channels, two outputs, and bi-phase square-wave pulse.
Includes four electrode pads, two electric wires, three AAA batteries, one belt clip, and one user manual.
Weight: approx. 2.5 lb.
Automatic shutoff after 1 minute.
PDAC approved EO720.
Color: Black.
---
We Also Recommend