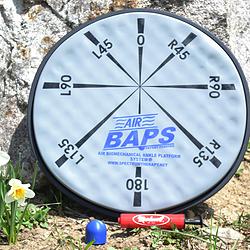 BAPS AirBAPS Board 6200


Unique shaped air bladder utilizes the properties of a predictable and unpredictable environment. Can be utilized sitting, standing or in partial weight bearing positions. The air bladders' bumpy top surface enhances circulation to the foot by stimulating pressure points.
Air bladder pump and air gauge included to adjust for 0-7 pounds maximum pressure. The more air in the bladder the more predictable the movement.  The less air can simulate an unstable, unpredictable walking environment.
System can be used for touch toe or two foot surfing for symmetrical and asymmetrical motions.
System can be used as a Warm Up or Cool Down protocol.
Bottom of platform balances on a non-skid rubber ball that will not harm flooring.  It can be used on hardwood flooring, cement, carpet or tile.
Durable and portable, weighs 9 pounds.  Take it with you on your treatment days or rent out to patients for home therapy use.
Clean with soap and water and an antibacterial wipe according to your clean standards OSHA protocol.
Patented and endorsed by Gary Gray, PT, FAFS
President of Gray Institute
"These products have planted the seeds of Function that are revolutionizing approaches to injury prevention, early intervention, rehabilitation, and performance enhancement worldwide. "
---
We Also Recommend