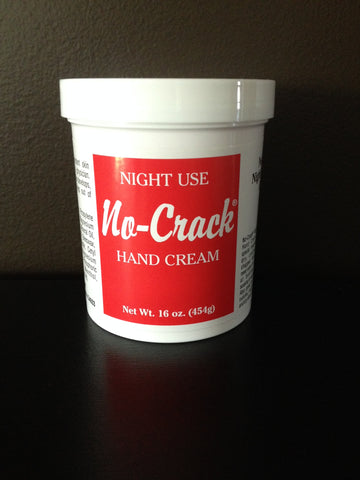 No Crack Hand Cream Hand Lotion Night Use 16 oz - Dumont Company
This item is made by the manufacturer in limited quantities.
No-Crack Night Use Hand Cream is for dry, cracked, rough hands. It replaces the natural oils of the skin. This cream is to be used at night when it will not be washed off, but will have time to be absorbed and help the skin stay soft. No-Crack Night Use Hand Cream can also be used on broken cuticle, rough elbows, and calluses on the feet. Night Use Hand Cream contains oils, lanolin, the ultimate moisturizing emollient, urea, a moisturizer and preservative, allantoin and other helpful ingredients.  
This has been a best selling product for years in our retail store.  This is a great product!!  Check out our store for different sizes and we also carry No-Crack Day Use and All-Purpose Use.  Due to the nature of this product we cannot take returns.  Thank you.
---
We Also Recommend