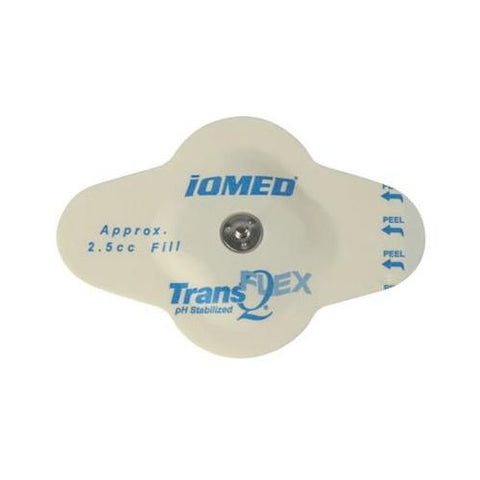 Iomed Trans Q Flex Iontophoresis Electrodes - 12
Through the use of ionized drugs and a mild electrical current Iomed TransQ Flex iontophoresis electrodes can administer drugs both easily and painlessly. The electrodes, with their easy-to-shape gel quality, are a breeze to put on, and conform quickly to the contours of the body. This eliminates the frustration sometimes accompanied with trying to apply electrodes.

With this drug delivery system, patients suffer no uncomfortable side effects, and it's a great alternative to the traditional oral and intravenous methods.
A great addition to any electrotherapy equipment inventory, the Iomed TransQ Flex Iontophoresis electrodes combine a special GelSponge element with patented hydrogel to create a confident contact with wet skin. This coupled with the electrode's capability to contour to almost any part of the body, and its pH stabilizing abilities, makes this an ideal physical therapy equipment addition.
Features:
Excellent contact abilities with the skin
Easy to apply
Minimal irritation to skin
Painless
Ideal delivery consistency
Specifications:
Active Area - 11.2cm²
Approx. Fill Volume - 2.5cc
Maximum Current - 4.0mA
Recommended Dosage - 40mA-minutes
Maximum Dosage - 80mA-minutes
Skin Interface - GelSponge®
Conductive Element - Silver-Silver Chloride
No Expiration Date
Packaging: 12 treatment kits per box
---
We Also Recommend