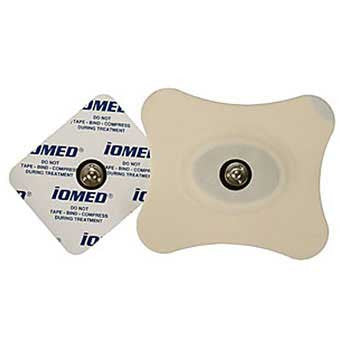 Iomed Optima Medium Iontophoresis Electrodes - 12
Features:

Adhesive Foam stretches and adheres well when under stress
Oval Shape conforms to a wide variety of treatment sites
pH Buffering Agent maintains ideal pH
Conductive Element - Carbon
Skin Interface - Fiber Matrix
12 treatment kits per box
No Expiration Date
Description:
Iomed Optima Iontophoresis Electrodes are another addition to the already successful arsenal of electrotherapy equipment manufactured by IOMED Inc. One of the main methods of drug delivery systems IOMED Inc. specializes in is the needle-free system of delivery called iontophoresis. Because this method of drug delivery is non-invasive, is easily administered by the clinician, and pain-free for the patient, it is often times the method of choice for electrotherapy treatments. These electrodes are among the most comfortable buffered electrodes available on the market today. This unique layered buffer design plays a major role in alleviating skin irritation while maintaining a stable pH level. Unlike other buffered electrodes that have air pockets that cause an uneven current distribution, the Optima electrodes are filled with a uniformed pH defining agent and a buffering agent that essentially create an even distribution of current.
Size:
 Medium (2.0 cc Fill) 
Kits Include Drug Delivery Electrode, Disposable Dispersive Pad And Alcohol Wipe.
---
We Also Recommend